Tláloc, the god of rain and water, was associated with life giving and sustenance and fertility, as well as springs, mountains and caves. He was often depicted with goggle eyes, fangs, and a curled nose. Child sacrifices were made to him, and children were expected to weep in order to bring rain.
Less gruesome sacrifices occurred as well, with little statues being made from dough and offered to him. These dough children were eaten at banquets.
more...
Tlaloc, also known as Nuhualpilli, was, in Aztec belief, the god of rain and fertility. He was greatly feared among the Aztecs, who drowned children to appease him. They believed that Tlaloc was responsible for both floods and droughts, and that he had been created by the other gods. He is commonly depicted as a goggle-eyed blue being with fangs. Human sacrifices were often made in his honor, usually children. Before the victims were actually sacrificed, their tears were collected in a ceremonial bowl, to serve as an offering.
Although a beneficent god Tlaloc certainly had the power to unleash floods, lightning and drought when angry. To please him children were sacrificed to him as well as prisoners dressed in his image. It is said that the more the babies and children cried the more Tlaloc was pleased. During the sacrifice the tears of the screaming children were seen as representations of falling rain, the more the children cried, the better the rain season.
The Character of Tlaloc
Common Name: Tlaloc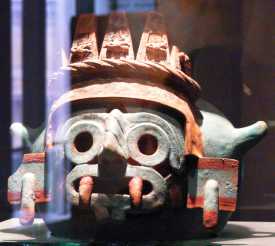 Appearance: primary color: Blue is his dominant color and of his mask. His body and face are often painted black, and water is often depicted dripping from his hands. He is dressed in red with a green feather headdress. A string of green jade beads hung from his neck. His ears, arms, and ankles were adorned with bracelets of precious stones. No other gods were adorned with as many precious jewels as Tlaloc. In his right hand was a representation of a purple wooden thunderbolt, in his left hand was a leather bag. His body is a man; his face like a monster with fangs and huge eyes.
Personality snippet: greedy, twisted.
Transformation: (none)
Power: Lightning, water. Can cause flash floods.
Weapon: Lightning bolt wand that shoots lightning.
Other: to be filled in by the adopter